I have a little tech-geek side that likes to come out every once in a while, and I get excited when I hear about new apps. I like to keep an ear out for the latest in upcoming developments too.. especially when they are fashion and beauty related! Here's some of the latest I've come across: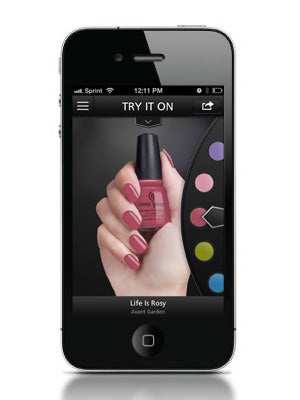 I enjoy getting manicures as a personal treat after a busy week working at this PR agency. China Glaze has come up with a cool new app that helps you pick out your next favorite polish color! You just need to take a picture of whatever color you want to match and the app will find the best China Glaze color that fits! Spot a pretty flower on your lunch break that would go great with your new dress? Snap a photo and the app will pick out the color that matches it best and it'll show you how it'll look on your hands too! I find this super interesting because I always see pretty colors that I would love to put on my nails. This app would help immensely! Unfortunately for me, it's only available on iPhone and iPad, so I'll have to wait until it crosses over to the Android world.. *sigh..*
The developers behind the popular music-identifying app, Shazam, are currently working on a way to ID clothing brands that you would see what they wear on TV! I can totally see it come next awards season: No need for red carpet interviews, just hold up your phone to the screen to see what designer your favorite actress is wearing. The cool thing is that once you've ID'ed the whole outfit, the app would take you to an online store where the customer can buy it right there on the spot! How convenient! At this Los Angeles public relations agency, we happen to have a lot of fashionable females here. Until this new app gets developed, I suppose I'll just have to resort to personally asking them where they shopped at. 😛 (Like I don't already.. Ha!)
What are some of your favorite apps? Do you have a dream app that you wish existed to help make your life more convenient or caters to your interests? Share with us!
Until then, have a happy weekend!
xoxo,
Cora >^.^<
P.S.: My favorite app at the moment happens to be Instagram.. Happy to let you all know that we now have an official Konnect PR Instagram account! Follow us at @konnect_pr and keep up with our crazy antics! 🙂